Study Abroad Tips
All You Need To Know About IELTS And TOEFL
Jun 11, 2019
So you want to apply to study abroad? That's great! However, to get accepted into a University programme, you will need proof of your English language abilities.
This means you will need a passing score on an English exam. The two most popular ones are the TOEFL (Test of English as a Foreign Language) and IELTS (International English Language Testing System). Each university has different test requirements. Make sure to check which English test and which score the organisation you are applying to recognises.
Both exams will test you in four areas: Writing, Speaking, Reading and Listening. That said, the process of preparing for and taking these exams are really different. You should also know that after taking the tests, the scores will only be valid for two years so you may have to retake them if you move on to higher studies.
TOEFL
TOEFL scores are accepted by more than 10 000 universities in over 150 countries, including Australia, Canada, New Zealand, the U.K., the United States, and all across Europe and Asia.
How does it work and where to take it?
The TOEFL is taken through the Internet-based (iBT) version. There are sessions available over 50 times a year at authorized test centres around the world. You can select your test date and location here.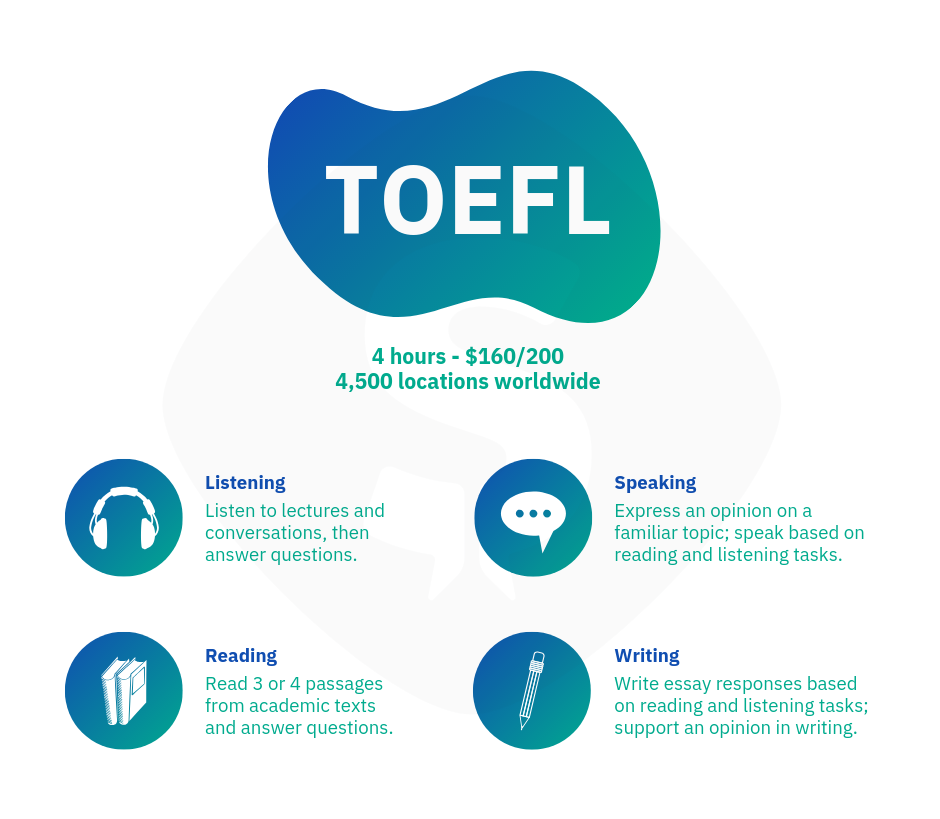 When and how to prepare?
You will need to take the TOEFL test at least 2 to 3 months before you apply to the University of your choice to make sure you get your scores on time.
The ETS TOEFL offers many preparation materials including free sample questions, practice tests, and detailed tips and information about the test. Learn more here.
IELTS
The IELTS certificate is recognised by more than 10,000 education and training providers worldwide. Note that universities in non-English speaking countries that provide courses in English will also require an IELTS score.
There are two versions of IELTS that you can choose from. The most common is Academic for people applying for higher education, but there is also General Training which is usually required for people going to English speaking countries for secondary education, work experience or training programmes.
Where to take it and how does it work?
There are about 1200 IELTS test locations in over 140 countries. You can search your nearest centre here. The IELTS test can be taken on paper OR Computer.
The cost to take the exam varies between USD215 and USD240, depending on each market's local currency. The test lasts around 2 hours and 45 minutes and includes: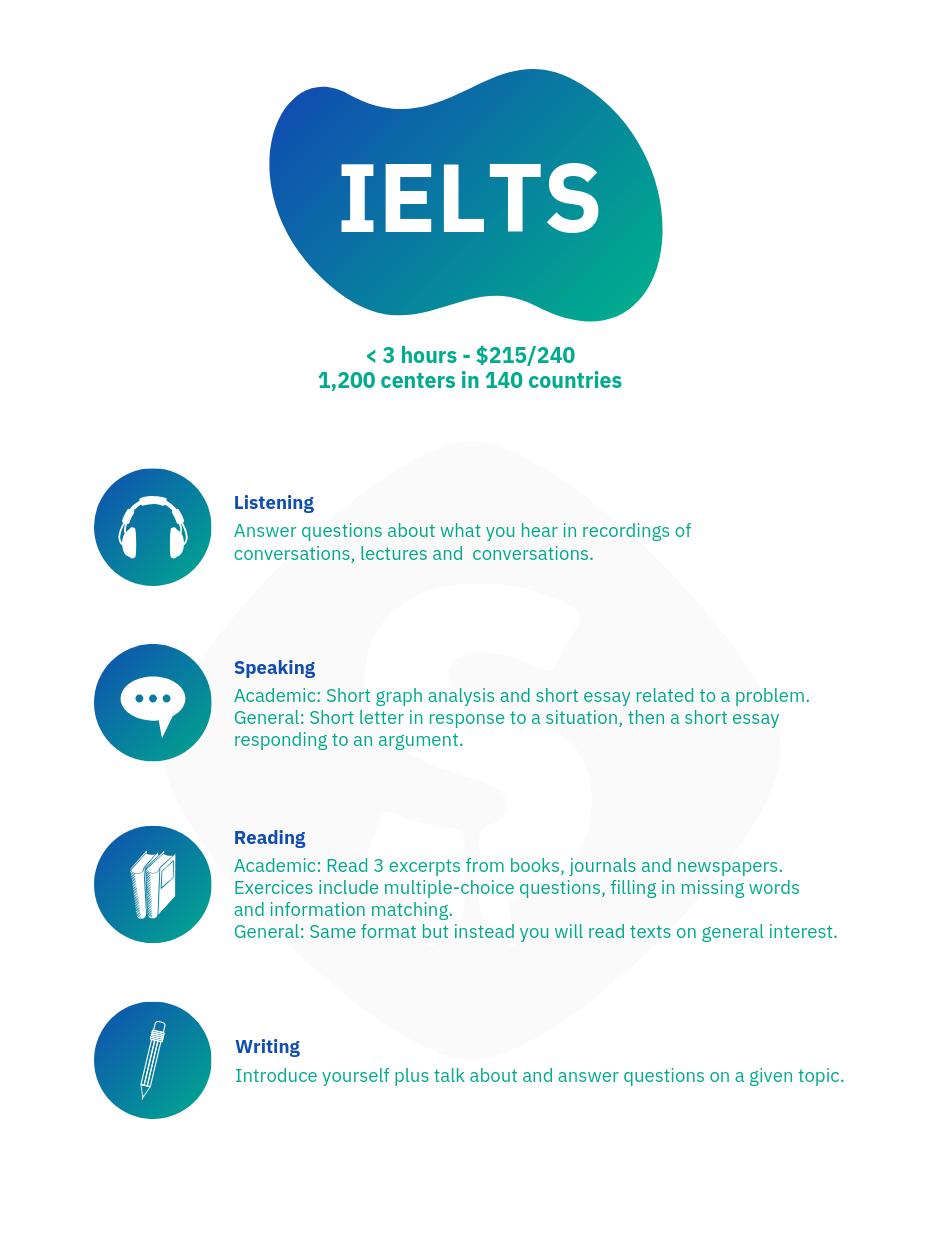 How and when to prepare?
IELTS provides sample questions to train and get an idea of what to expect during the test. Once you take the test, you will receive a Test Report Form after 13 days and you will be able to view your results online for 28 days.
If you're certain to study abroad, we recommend you to register as early as possible for a test date with an IELTS centre. Indeed, there is a limitation of the number of people who can take the test on a specific date.
Are you still on the fence?
Here's a quick way to check which test you should take (if the university of your choice accepts both English exams).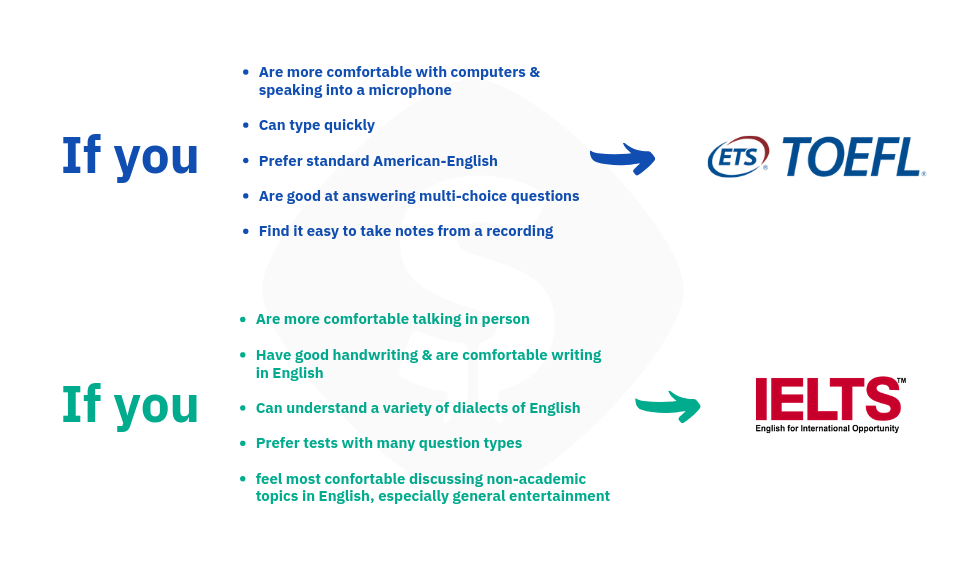 IELTSTOEFLApplications