Study Abroad Tips
How to Apply to Universities in Sweden: Step-by-Step Guide
Sep 6, 2019
If you're planning to apply to a university programme in Sweden, you must have found out by now that all applications go through one central portal: universityadmissions.se. The application deadline is the same for all Swedish universities. The online service opens on October 16th 2019 and closes on January 15th 2020.
Some other things you might want to know:
The universityadmissions.se site is completely in English
You can find the entire catalogue of courses taught in English on the site
None of the courses taught in Swedish are on the site
The process can look quite daunting at first glance, but here's a simple step-by-step guide on how to apply to Universities in Sweden.
Step 1: Create your account

Go to universityadmissions.se, click on the 'Login' tab and create your account.
You will be asked if you have a personal number or not. Select 'NO I don't have a Swedish personal ID number (personnummer)'. Enter your details. Remember to match your name with your passport or identification documents.
Once your account is created, you will receive a confirmation email from 'University admission in Sweden'.
Step 2: Find your course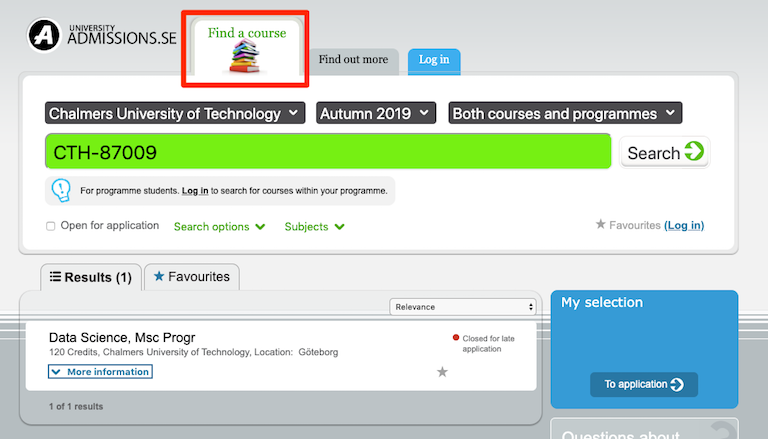 Select 'Find a course' to find the programme you want to apply to.
There are different ways you can search for the programme:
Search for the name of the university and look for your programme of interest OR Search for the specific programme name OR
Type in the programme code found on the university's course page.
This is the best way be sure that you're selecting the right programme from the right university and avoid any mistake. For example, the code for the Master of Science in Data Science at Chalmers University of Technology is CTH-87009.
Typing in this code will lead you directly to this exact programme. Click 'add'. The programme will then be added to a list of courses you want to apply to.
Step 3: Upload your documents

Next, select the 'Documents' tab to upload the materials required by your programme.
This includes your:
English language proficiency test scores: this is usually either the TOEFL or IELTS. There are different places to get them if you have not taken the test yet.
ID documents: scans of passport copies are not accepted. Remember to scan only the original passport.
Certificates, diplomas & transcripts
If the programme needs you to submit material beyond these, you can upload them through 'Other documents'. For example, University West requires a separate essay to be written.
Step 4: Confirm your selection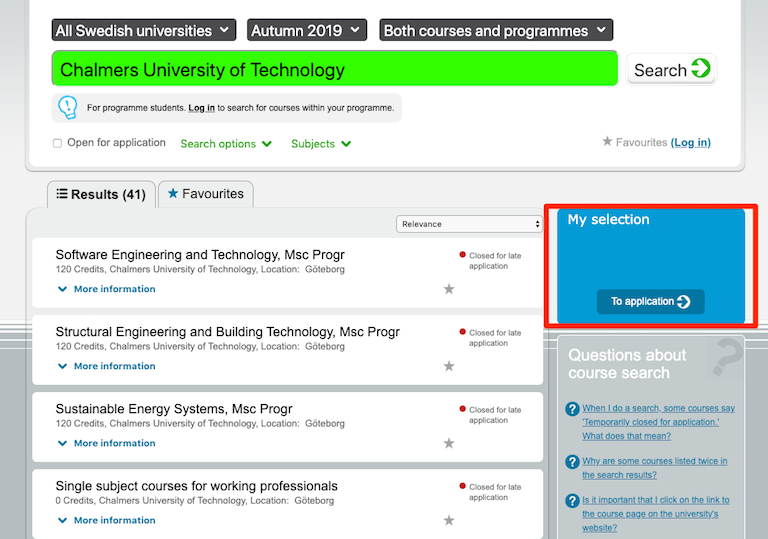 Look for the 'My selection' blue box on the bottom right of the screen and select 'To application' to get to the next step.
Check the courses on your list again to be sure that they are correct and select 'continue' below name of the programme.
Step 5: Complete your payment
The next thing you'll have to do is answer some questions related to your nationality. International students outside the EU/EEA zone and Switzerland will have an application fee of 900 SEK applicable.
Step 6: Check for updates
Once the application is complete, you'll receive a confirmation email. But if there's something missing from your application you'll receive an email about it or a message on the universityadmissions.se platform. So remember to keep checking for updates regularly.
The application process is pretty straightforward, especially if you already have all your documents ready.
Good luck with your applications, all the best!
SwedenEuropeApplications